*sniffle sniffle*
« previous entry | next entry »
Sep. 12th, 2004 | 01:37 pm on Sunday
mood: *sigh*
music: ila --> baroque

Let me take this moment to say goodbye to
baroque
. They were one of my favorite bands, damn it >_<;! Why must they split up *sobs* WHYYYYyyyyy.... I hate them for breaking up now. Jk, I love them =/ Those bastards. Anyway, I'm really sad they broke up and I'm playing their music all day today. (With the occasional Teen Titans Theme for variety's purposes...don't ask.) Also,
this layout
is dedicated to them. Gah, I loved them so much, bands never last anymore? ;_;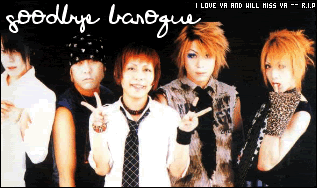 Goodbye forever, one of my favorite bands <3 At least you made gakidou.
Comments {23}